Free Shipping Kit

Request your FREE, INSURED ScrapGold Kit by completing a simple form!

Eco Friendly Recycling

Place your unwanted gold and platinum jewelry, watches, and/or accessories in the pre-paid, insured FedEx envelope. Drop the envelope off at any FedEx location or we can schedule a pick up.

Payment Within 24 Hrs

We'll send you a payment within 24 hours! Check, Zelle, or PayPal.
About Fundz
Why sell with Fundz?
Sell your gold online!
This is the fastest, most convenient way to get rid of your useless old jewelry and put real money in your pocket! At Fundz, we guarantee you the best service and the highest payouts. Wondering how much your gold is worth? Use our cash-for-gold calculator to find out instantly! Or call one of our expert gold buyers. They're standing by to answer all of your questions and help you quickly turn your scrap gold into cold, hard cash!

Fundz provides 100% secure online transactions, confidentiality, fast service, and a highly professional and friendly staff. And, above all, when you work with Fundz, you'll get what you need the most: Fast Cash! So, are you ready to make money? Your cash is just 1 click away! Click here to turn your gold into cash!

CashForYourGold makes the following guarantees:
You will receive maximum pay out!

Your transaction will be fast and secure.

You can sell all of your gold easily and fast!

You'll deal directly with an expert gold refiner!

You'll enjoy fast, trustworthy service!

You receive the convenience you deserve!
What you can sell
What we will pay you for
Most people at first place wonder how much they will get for their gold. To find out approximate price we need to look at 3 things:
Weight of gold. Market price of gold is measured in Troy ounces. Each ounce equals 20 pennyweights (DWT). At CashForYourGold we use DWT to measure the weight of gold. You can also use grams. 1 grams equals 1.55 DWT
Purity of gold.
Market price. The price we give varies each day based on Gold Fixing of London on the day of settlement.

What Gold Do We Buy?
Fundz buys all kinds of gold and jewelry, including:
Class Rings, Cocktail Rings, Cluster Rings, Engagement Rings, School Rings, Men's Rings

Charms,
Lockets, Pendants,
Gold Dog Tags

Band & Broken Scrap Jewelry, Items with missing stones

Gold Money Clips,
Cuff-links and Buttons

Gold Watches
and Watch Bands

Matched and Unmatched Gold Earrings

Gold Bracelets
and Cuffs

Key Chains,
Wallet Chains

Gold Coins
and Medals

Wedding
Bands

Gold Pins, Brooches
and Hairgrips

Broken Chains,
Tangled Chains

Ingots

Scrap Dental Gold

Gold Necklaces

Gold Wire

Gold Statues

Nuggets
How it works
Get paid is as easy as 1, 2, 3
Step 1
Order your free, insured pre-addressed ScrapGold Kit
Congratulations! You've taken the first step toward your cash! Request your free ScrapGold Kit bt filling out the simple form on this page!
Get the offer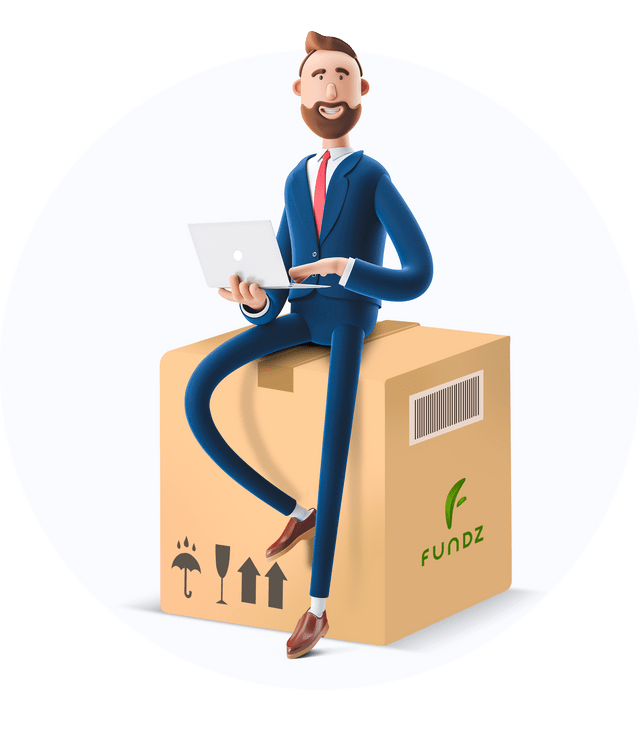 Step 2
Collect gold you don't need
Look around the house and gather up all gold items you'll never use again. Place them into the pre-paid, pre-addressed and insured return package that we'll send you. Drop it off in the nearest FedEx store or drop box!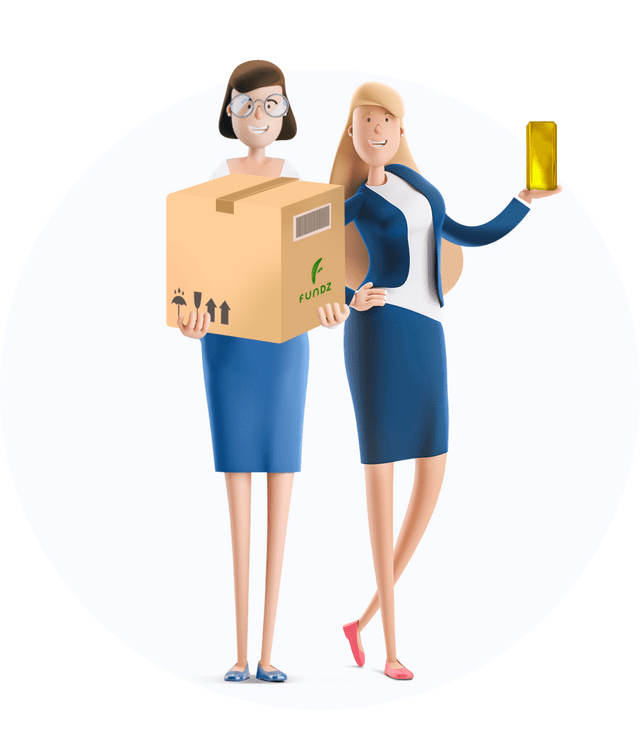 Step 3
Get the best offer
Within 24 hours of receiving your package:
Our specialists will appraise your gold and offer you the highest pay out available! 100% guaranteed!
One of our friendly representatives will contact you so you can approve the payment.
We send you a check!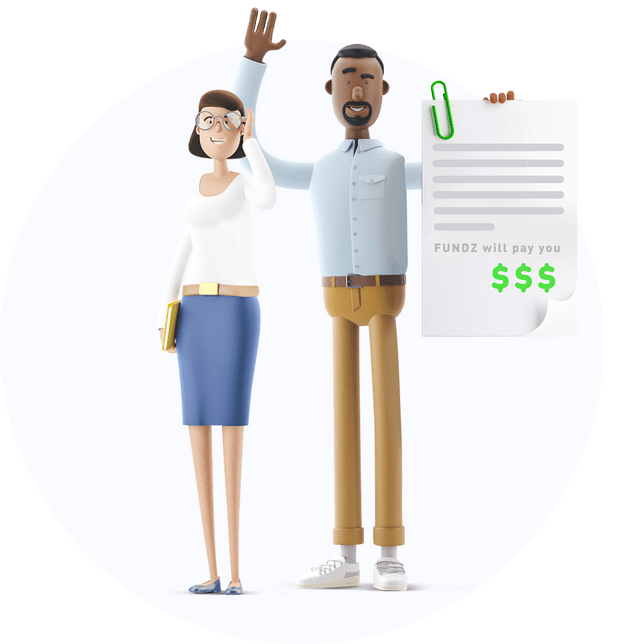 Receive your cash NOW
Smile! Your money is one the way to your pocket!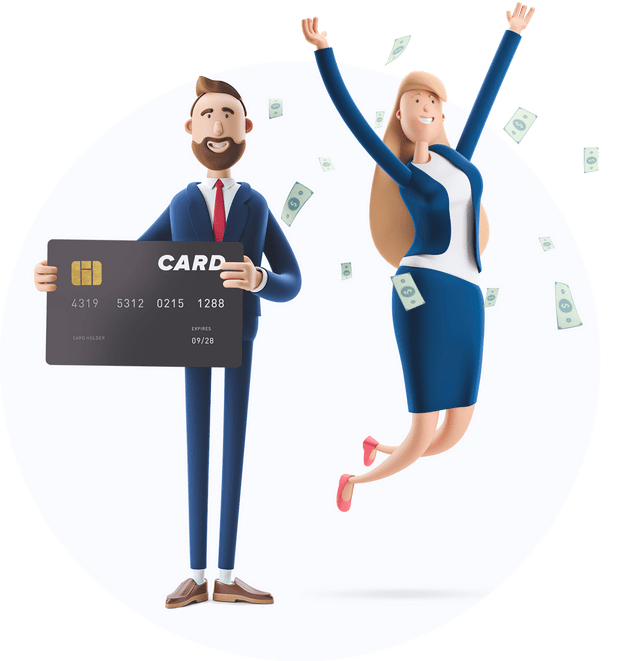 Your road to riches starts with an easy first step — so take it!
Request your free ScrapGold Kit now!
Get rich now
Join over 1 million people who use Fundz cash for gold service
Sell your gold online to Fundz.
Fundz is the quickest, simplest, and most profitable way to turn your unwanted gold into money! Fundz partners with a major refinery, so there's no middleman. That means you get the highest payouts available. Fundz will pre-pay and pre-address your return package, insure your gold, and protect your information. All you need to do is request your free ScrapGold Kit, send in your gold, and receive your cash! And you can do it all from the comfort of your home!
Wondering how much your gold is worth? Prices for gold, platinum, and other precious materials are based on their weight, purity, and market price. Our easy-to-use cash-for-gold calculator will help you find your estimated payout amount. Just look up the karat of your item, enter its weight, and calculate your gold now!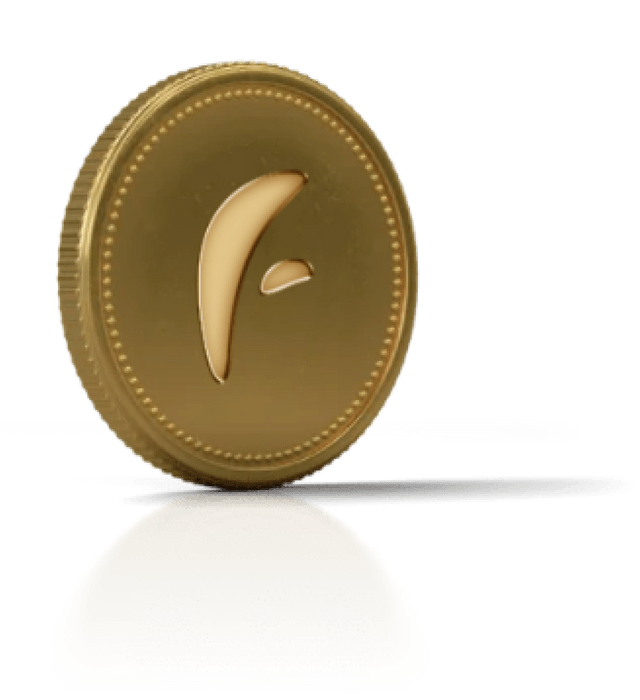 4 Ways to Sell Your Gold: Which Is Best for YOU?
1. Sell to a local pawnshop.
Most pawn shops buy gold for resale but not for refining. This means low payouts and very little money to you.
2. Sell to a jeweler.
Like pawn shops, most jewelers purchase gold for resale and not refining. Once again, you get a lower payout than your items are worth.
3. Sell to a gold dealer.
Gold dealers are middlemen who will try to pay you the smallest amount possible so they can maximize their own profits later!