Getting Started with the Easy Online Estimator Tool
Fundz brings a modernized pawn shop experience to you! With our online estimator tool, loan or sell as many items as you want from the comfort of your home. Starting the process is as easy as filling out some quick details about your item(s)! Fundz' intuitive online estimator tool calculates the value of your watch or designer handbag. Then, in just minutes, it gives you an initial estimate, showing you how much quick cash you can get for your items, based on the info you provided. Our initial offer is non-binding. Feel free to get an estimate on as many items as you'd like!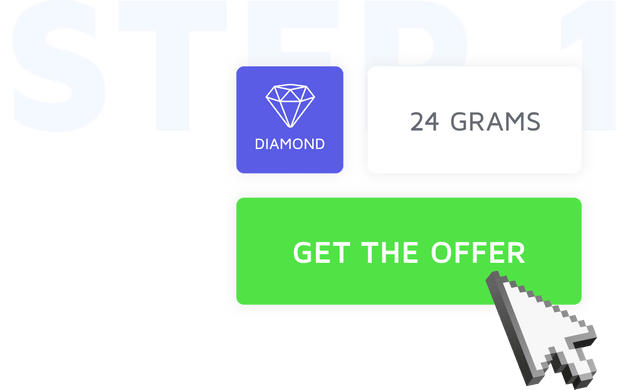 Let's Make it Official with an In-Person Evaluation & Final Offer
Once you accept our initial offer, we'll send you a prepaid FedEx shipping label for your jewelry, gold, and watches. Shipping your luxury items to Fundz is 100% free, secure, and safe. Not only is shipping free, but we insure your items and provide FedEx tracking during transit for that extra peace of mind.
When we receive your gold and jewelry, our expert team of experienced loan and sale assessors will complete a final evaluation within 24 hours. After our experts inspect the condition and confirm the value of each item, they'll send you a final offer!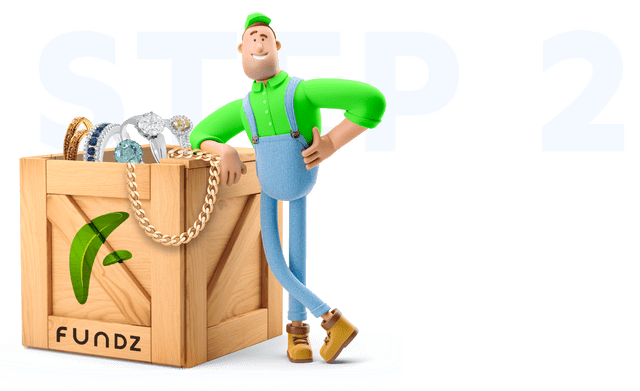 Get paid your way!
Once you've accepted our final offer, the only thing between you and quick funding is a signature and some identifying paperwork. We offer several easy and accessible payment options to get you paid. Thousands of happy customers trust Fundz with their online personal lending and selling needs.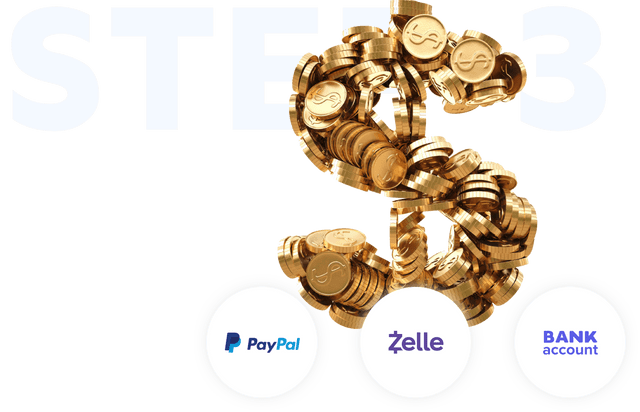 Get an Estimate
Check how much we will pay you!
Fill out the form and we will send you an estimate for the amount of the loan, the interest rate, and the loan repayment terms.
Online personal loans
The process of securing loans has traditionally caused headaches for many people. At Fundz, our fundamental belief is that this shouldn't be the case. In fact, we believe that the loan acquisition process should be as fast and painless as humanly possible.
Since we are living in difficult and uncertain times, it's vital that getting the cash you need happens as quickly as possible. No need for the runaround of traditional banks and lenders. Just plug in your item for a fast estimation and viola! You'll be qualified to receive a cash loan in little to no time!
Personal loans online approval
Fundz strives to give our customers the lowest interest rates, ensuring that you're locking inthe lowest, rock bottom prices for your loans.
We value your item and will give you an appraisal that makes sense. From vintage items to diamonds and other jewelry, feel confident in knowing that you're getting the very best deal for your stuff. Cash is on the way.
Small loans online
Easy instant loans can be had quickly and effortlessly, don't fret. Just trust the skilled experts at Fundz to walk you through the loan acquisition process.
From the moment you start your online appraisal process, you'll see the distinct advantages of using Fundz.
Our experience in the pawn industry has shown us that everyone's situation is a little bit different. Over the years we've successfully adapted to our customers' circumstances and we've continued to deliver quality outcomes for customers who have come into our pawn shops.
Online lending
But nowadays, it's a different landscape. Many people prefer to facilitate the entire process online instead of in-person. They'd rather conduct business from the safety of home rather than going out and taking a risk.
What's more, we understand the concern and we are here to help make this process as easy and seamless as possible.
With each step done online, you can feel safe knowing that your pawn experience will give you the highest prices for your cash loan while allowing you to remain in the comfort of your home.
Best online loan
Reputability is key. Fundz has a team of pawn and loan specialists who have accumulated rave reviews over the past several years. We have served countless communities throughout the United States, including populous states like California. If our work has taught us one thing it's that customer care and respect matters. This includes our treatment of each customer as well as the items being exchanged. Fundz is proud to have paid tens of millions of dollars out to our customers over the years. In fact in 2019 alone we paid over $13 million.
Not only do we have great accessibility by offering our entire pawn platform online, but we still provide amazing high prices for our cash loans. It's the best scenario for individuals anywhere who are looking for an affordable collateral loan.
When it comes time to get fast cash in hand, you know who to contact by now, right?
Personal loans for bad credit online
Have you struggled with bad credit? Fundz is here to dispel your fears about needing awesome credit to snag your loan. We will work with you no matter your credit score, as we do not perform credit checks for you to secure your loan. in order to give you a fair amount for the item you're giving us. It's time you landed for a secured personal loan. Aren't you due for it?
Fundz believes that everyone is entitled to a fair shake when it comes to qualifying for a cash loan. That's why we've made our entire process so intuitive. "I need cash quick" doesn't have to be a phrase of desperation anymore. When you come to Fundz, you can rest assured that you'll exit quickly with Fundz in hand.
Online loan company
Our intuitive web features let you check your balance and process online payments with ease.
It comes down to us wanting to provide first class service to all of our clients. With specialized skills in evaluating items ranging from handbags to jewelry and everything in between, our team is ready to make you an offer you can't refuse. And, when it comes to authenticating handbags, our team utilizes the latest technology powered by Entrupy. Get the most bang for your buck from our qualified evaluators, each and every time you submit an online appraisal. The way we see it, even if you aren't with us in person, we should still provide you the most personal service possible, catered to your needs and rooted in fairness all the way.
Online apply personal loan
Quick money loans are the name of the game. It's the reason that Fundz exists, and it's the reason why so many customers keep coming back.
Easy loans
It's time to enlist a secure and hassle-free way to lock in a great price for any item you bring us. Our goal is to provide the best collateral loans around. You shouldn't be stuck paying obscene interest rates for your loans, which is why Fundz is here to deliver quality loans each time. We rep the lowest rates in the industry, just 2.9%.
Easy online loan
Fundz are the quick money lenders you've been looking for for your loan needs. Get the highest quality fast cash loan available. Secure the easiest cash loans online, hands down, everytime.